Google page 1 number 1 ranking for www.TrainingRoomSG.com
Updated on: 13 November 2014
Initial challenge
Training room is available for rent and need to reach potential customers at the lowest possible marketing cost via internet marketing.
Step 1 – Keyword Research
We did our keyword research and noticed there is a huge increase in demand during year end for keyword "Training Room Rental Singapore" (see below for search demand results using Google Keyword Planner tool). What makes it more attractive is "Training Room Rental Singapore" is an action keyword. Action keyword means the intend of the person who are doing the search is clear – they want to rent a training room! This keyword is much better than general keywords like "training room" or "seminar room" which the intend of the person is not clear.
Step 2 – Reach the targeted group at the lowest possible cost
To reach this group of potential customers, we can either do paid advertisement, also known as pay per click (PPC), or Search Engine Optimization (SEO).
As the cost for every click is expensive ($7.88 per click!! See below for details), we decided to proceed with SEO.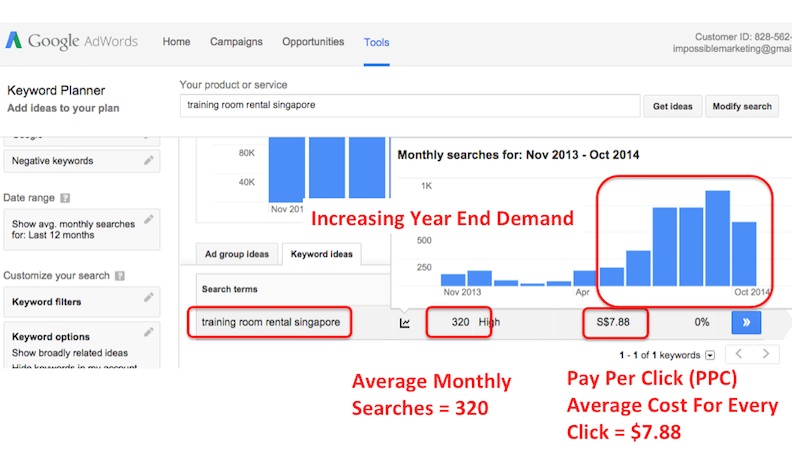 Step 3 – Optimize website
After 3 months of hard work, we are proud to share that www.TrainingRoomSG.com is at Page #1 Number #1 of Google Search Engine Results Page (SERP). Go ahead and Google about it.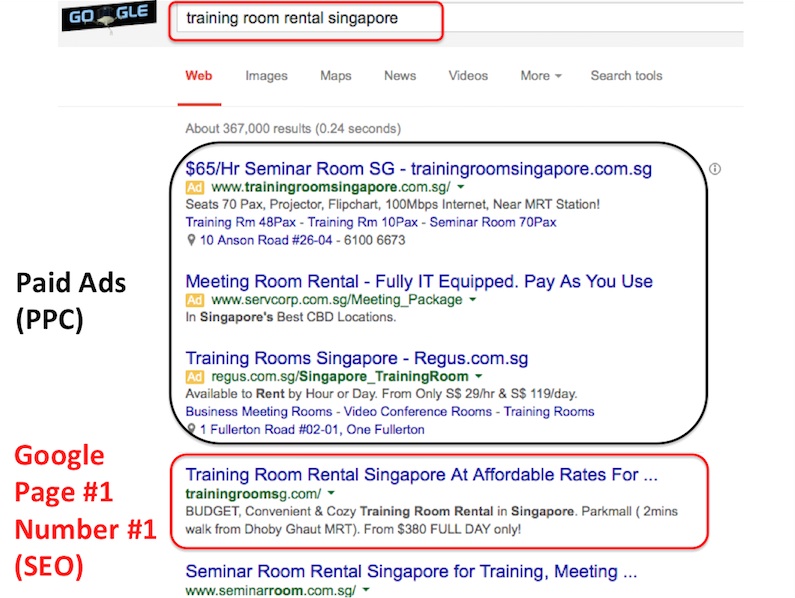 Another page 1 number 1 ranking to our portfolio.