Internet Marketing Course – 10 questions to ask before signing up
Updated on: 11 February 2016
Are you considering to take up an Internet marketing course to enhance your knowledge? Let us focus on the top 10 questions to ask before signing up.
How reputable is the company?
Prior to signing up for an Internet marketing course, always check the reputation of the company and the trainer's credibility.
Example: If you are learning about Google paid advertising such as Search Engine Marketing, you should check the expiry date of the trainer's certification and also if this company is a Google partner company. To add-on, you can also Google to find reviews on the course, the company, and the trainer.
See below for example of a Google Adwords certification: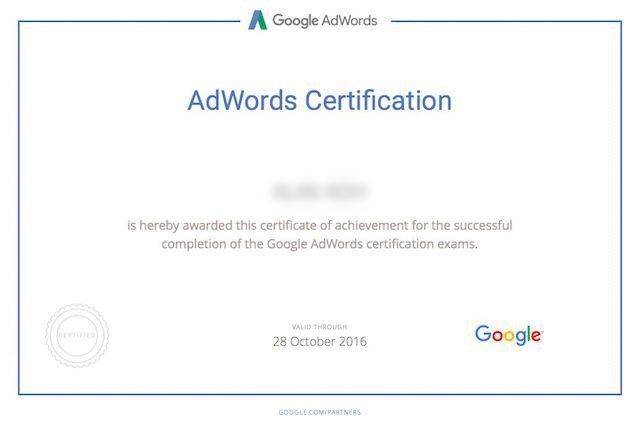 Alternatively, you can check if the company is Google recognized by using the Google Partner search link.
Any hidden / additional cost (software, up-selling)?
Not all companies show their charges upfront. During the training, they may want you to buy additional software to "enhance" your Internet Marketing results.
Prior to signing, make sure that you know all the charges involved.
Some companies up-sell their training course (advanced or expert) and you will end up paying more for it – See the below point for elaboration.
Are there any additional courses after the training? (Basic, Advanced & Expert)
There are many companies in the market offering Search Engine Optimization (SEO) course. However, some of them break down their course into Basic, Advanced, and Expert. You end up paying much more than the initial amount that you've prepared.
Since SEO is about ranking a website to the 1st page of Google search, a frequently asked question is: "Can I ranked my website if I took up the basic course"?
If Yes, then there is no need for the advanced and expert course.
If No, then what is the point of taking up the basic course.
In our opinion, it does not make sense to break down the SEO course into different levels.
How big is the training class?
With a class of more than 30 people, the trainer's attention and engagement with you will be very minimal. You will definitely want to avoid such big class size.
Assuming everyone asks a question during the training and it takes an average of 5 minutes to explain, this would take up at least 2.5 hours of the day.
Who is the coach conducting the training?
Some of the courses are not conducted by the trainer personally. They sell their courses and outsource the training to other trainers (such as their graduate students) who have much lesser experience. You may not get what you paid for.
Can you provide the breakdown of theory and the hands-on portion of the class?
The Internet is full of information. Many people struggled to execute successful digital marketing strategy as they are flooded with too much theory but limited hands-on experience.
When you choose a training course, always ask for the breakdown of the hands-on and theory portion. If most parts of the course are covering theory, you might as well read online.
Are you ranking for SEO related keywords?
Let's face it, all SEO companies and trainers want to rank for SEO related keywords. That is the best way to prove their ability. However, not all SEO companies and trainers are able to get results as these keywords are competitive. If your trainer is not updated with the latest Google changes, he or she may be struggling to rank.
Let's take a look at some of the high demand keywords retrieved from Google Adwords Planner Tool (dated 10th Feb 2016):
| | | |
| --- | --- | --- |
| Keywords | Average Monthly Searches | Cost Per Click (Indicative) |
| SEO Singapore | 2400 | $16.53 |
| Singapore SEO | 320 | $23.86 |
| SEO | 3600 | $19.20 |
| SEO Services Singapore | 590 | $23.19 |
| SEO Services | 480 | $26.04 |
| Search Engine Optimization Singapore | 210 | $10.95 |
| Search Engine Optimization | 1000 | $17 |
| Internet Marketing Singapore | 390 | $7.29 |
| Online Marketing Singapore | 210 | $12.28 |
| Internet Marketing | 720 | $9.02 |
| Online Marketing | 590 | $14.27 |
Referring to the table above, you can see that there is a huge search demand for SEO and Internet Marketing related keywords. The indicative cost per click can go up to $26 for each click. Your trainer definitely wants to rank for these keywords.
Google for the above keywords and see if they are at the number 1 position of Google search results. If not, they should, at least, rank on the 1st page of Google.
Any updated student testimonials?
Student testimonials are common nowadays but what you should be looking for is updated and genuine student testimonials. Check when they took the testimonials and if they have any updated success stories.
You will definitely want to avoid companies with limited success stories as their strategy may not be updated.
Is there any certification after the training?
You want to be recognized by the training company after completing the course. A certification from a reputable company can increase the value of the course and also give confidence to your employer.
What is the after course support?
You do not want to be abandon by the SEO companies and trainers after the course. Check for their after course support. Are you able to contact them for help? Any face to face or phone support?
Should there be any Google algorithm change, will you be informed on how to do the changes to maintain your website at the top of Google ranking?
After asking all the above questions, more importantly, ask yourself "What am I really signing?"
Am I signing because of the "today only" discount?
Am I signing because of the "today only" free gifts?
Am I signing because of the lifestyle they are showing me?
Many Internet Marketing seminars in Singapore do emotional selling – they will tell you about their lifestyles, how often they travel overseas, what car they drive, which condo they stay in and how can easy it is to make a 5 digit income online. Sometimes, they even offer you a "today only" discount or free gifts to their course if you sign up immediately.
Don't let your emotion make the decision for you as many have regretted signing up impulsively!