Capture Leads From YouTube Via Google's Lead Form Extensions
Updated on: 11 September 2020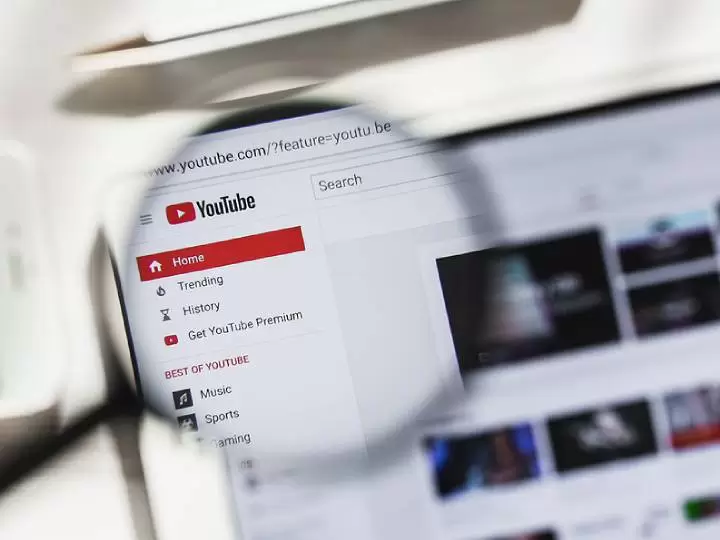 Google is providing a new way for advertisers to capture leads by bringing its lead form extensions to YouTube as well as Discovery campaigns.
Lead forms help advertisers gather leads directly from their ads instead of directing users to a landing page. Google's goal is to help advertisers gain higher quality leads faster by driving users to take immediate action.
Here's how lead forms can have a big impact in reaching and engaging interested customers and bolster the conversions your ads generate.
How lead forms will look like in YouTube video ads
Lead forms are opening up a big opportunity on YouTube through TrueView for action campaigns. Apart from using calls-to-action (CTA) and headlines, advertisers can display a lead form that appears underneath the in-stream video for users to quickly share their information.
This can be done without redirecting them to a landing page, which significantly increases the likelihood of form completion and does not interfere with the viewing experience. By streamlining the user journey, this allows for a more seamless flow that can help you find quality leads in a more efficient manner.
Let's take a look at how Jeep is able to capture leads during early testing of lead form extensions on YouTube.

Without having to leave YouTube, users can express their interest and fill out a form to book a test drive with Jeep easily.
According to Jeep, their use of lead form extension saw a tenfold increase in their completed leads. The automaker company further shared that the extension proved to be the most cost-efficient way across all ad platforms to generate leads.
How does lead form extension works
Lead form extensions were rolled out in search campaigns last year to allow advertisers to attach lead forms to their ads in mobile and tablet devices which appear in Google search results.
Consumers can click on the ad and fill in their details on the conversion form without having to leave the screen they are on. If the user is already logged into their Google account, the form will be automatically filled in and they can submit it quickly.
Before you can create a lead form, your account must meet the following requirements:
A good history of policy compliance.
A total spend in Google Ads of over USD 50,000. For other currencies, the spend amount will be converted to USD according to the average monthly conversion rate.
A suitable vertical or sub-vertical. Certain content that is "sensitive" and not allowed for lead forms includes alcohol-related, healthcare and medicines, and political content.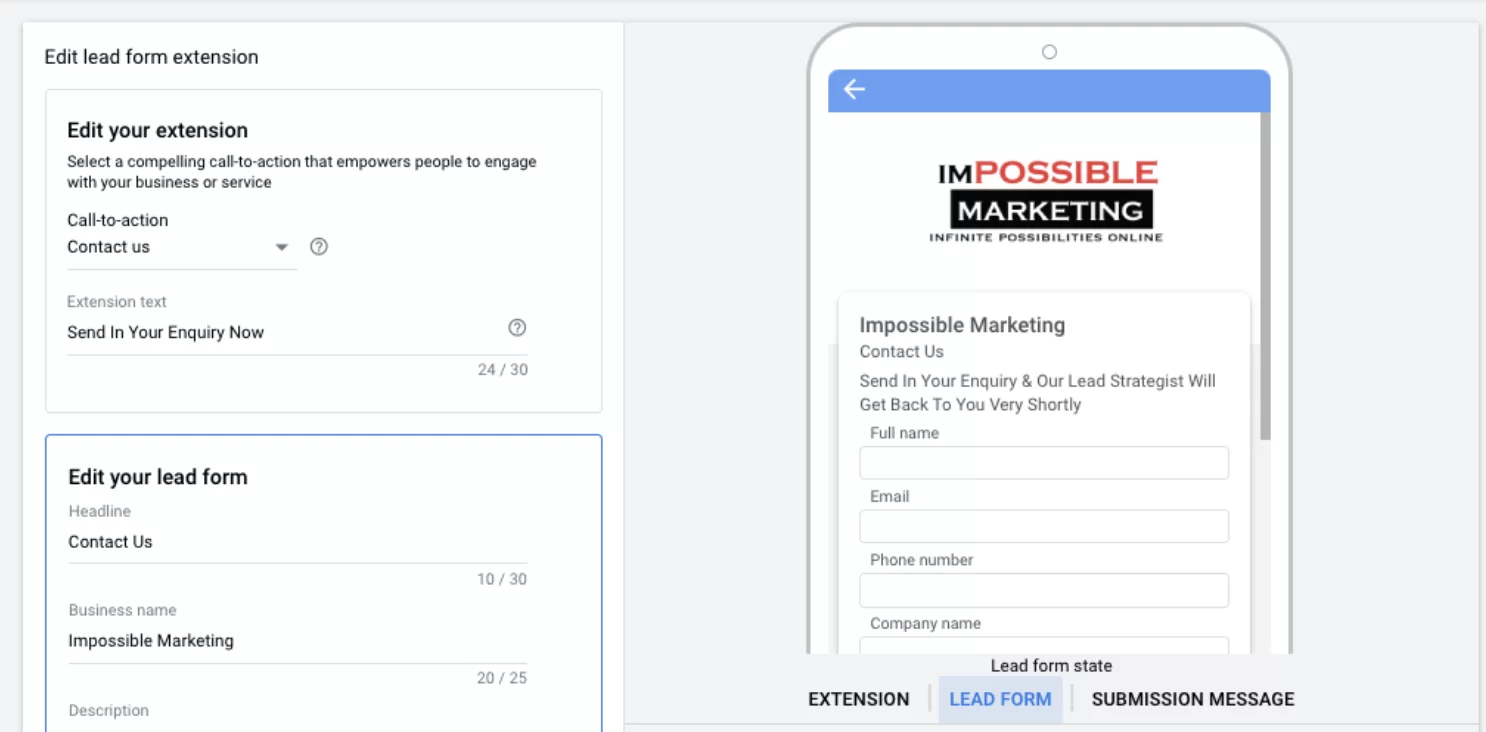 Lead forms can be added as extensions to existing campaigns in Search ads. For video campaigns, they are added during the campaign creation process. This can also be done from the campaign settings menu.
For advertisers who are creating video campaigns, they have the option to choose which type of leads they wish to capture: higher intent or more volume. The lead form type can be changed at any time during the campaign.
Higher intent: reach an audience that is likely to be interested in your product
More volume: reach a higher number of people with your lead form
The next step is to decide which pieces of information they wish to gather from users. This includes:
Name
Contact Number
Email
Country
Zip/Postal Code
The company they are employed at
Job title
Work email
In addition to this standard set of questions, you can also choose more specific questions for each vertical. These include queries that are specific to job hunters, home buyers, and so on. If these options are insufficient, you have the ability to write your own custom questions to ask on the form.
How you can turn those leads into sales
Once a user has submitted a lead form, it is necessary to follow up on their intent immediately. Time is of the essence – according to Harvard Business Review, research statistics suggest that companies that respond to leads within an hour are 7 times more likely to convert them into sales.
As such, the leads collected via Google lead form extensions must be done efficiently and sync in real-time. The methods include:
Download and manage captured leads in a CSV file, which are available from the last 30 days.
Set up a webhook integration to automatically import data to your customer relationship management (CRM) system and receive leads in real-time.
Use Zapier to automatically import and export data between Google Ads and your CRM system.
Additionally, Google plans to roll out a feature later this year, that makes it easier and faster to import offline conversions by using the information that users have given in the lead form.
Lead data can be used to nurture leads with Google's Customer Match, an advertising tool that helps to increase brand awareness and drive conversions. By using information that customers have shared, Customer Match allows you to create PPC ads and target audiences similar to your most valuable customers and reach new audiences on YouTube.
Best practices for optimal performance with YouTube lead form
There are some tips to help you get the most out of your TrueView campaign on YouTube.
Begin with narrow audiences
Think about using a narrow audience at the start of your ad targeting. This can be done by creating custom intent audiences, where you can segment your ad groups by a list of keywords and landing pages you wish to target.
Another way is by remarketing audiences, which allows you to connect with people who have already interacted with your YouTube videos, website or mobile app. Remarketing ads can nudge audiences toward completing a purchase they had abandoned, and at the same time, increase brand visibility.
You can also use Customer Match, which has been previously explained. If you're seeing high-quality leads and low lead volume, then you should expand to additional audiences to get in front of more customers.
Use language targeting correctly
Trying to get your message across to others can be difficult if they don't speak the same language, Similarly, you want your lead form to appear to customers who can understand them.
Target a language that matches your lead form language. Otherwise, consumers may see the lead form but are unable to respond to it. Google does not translate ads or keywords, so you should be targeting one language per lead form. Ads will be shown to customers who use Google products (like Gmail or YouTube) in that same language.
Your budget should be around 20 times your cost-per-action (CPA) bid to allow for sufficient daily conversions. Use Google's Maximize conversions bidding to automatically set bids based on real-time data and get the most conversions for your campaign within a specified budget.
Google will leverage every opportunity to gain the highest number of conversions possible while spending your daily budget efficiently. Make sure you are already tracking conversions that closely align with your business goals. If you've just started video campaigns, you can begin bidding conservatively at 2-3 times your CPAs for Search campaigns or 1-2 times for Display campaigns. Lower the target CPA 10-15% at a time to optimise toward your desired CPA while allowing for more conversions. 
Make your messaging easy to understand why users should submit their information in the lead form. Have a clear call-to-action (CTA) with phrases like "Sign up" and "Learn more". For instance, if you are gathering leads in an automobile ad, you can use "Get quote" as the call-to-action.
 Conclusion
Kim Spalding, the Director of Product Management, Small Business Ads at Google, said that consumers today prefer to use varied methods to connect with a business. A research done in March this year indicated that 1 in 3 shoppers would rather buy from a company that offers various ways to reach them – like calls and web forms.
Next to Google, YouTube is one of the most popular websites in the global market which makes it ideal for connecting with your target audience. The lead form extension presents an easy and practical way for users to show interest through the form submission while helping businesses drive more leads.
Engage in a digital marketing agency to help you get started in using lead forms for YouTube ads. You can leave the technical know-how to the experts and watch your marketing campaigns be optimised for capturing leads and driving conversions.