Are Site Crawlers or Consumers more important for search engine results?
Updated on: 17 August 2018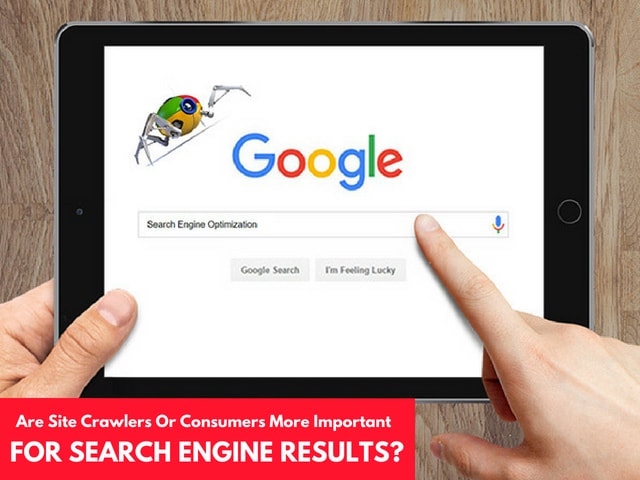 Recent advancements in Digital Marketing technology have greatly enhanced efficiency for Search Engine Optimization (SEO). Website crawlers such as Screaming Frog, Deep Crawl, and Botify have become essential components of marketers' toolboxes. Crawlers are a must have to handle invalid canonical tags, 404 errors, and mending broken links. The central role played by website crawlers means that marketers need less time for complex technical analysis or modifications. There is nothing wrong with the use of crawlers per se, but many Digital Marketers experts are reading too much into these tools and forgetting about the consumers. The tools analyse the websites' source codes and explore identifiable problems against a carefully drawn checklist, but they do not necessarily correspond to issues faced by visitors. Here is why consumers should also guide the design for your website.
Search results are increasingly centred around User Experience (UX)
Search engines have been advancing at a fast rate in the last few years. These advances have made it possible for search engines to provide better UX by narrowing down search results to only the most relevant results that Internet users want to see. Most crawlers such as SEMrush and Screaming Frog ensure the website is technically perfect, taking into account speed and mobile friendliness. However, the site crawlers devote less time to evaluating the physical websites and what visitors experience, which results in neglecting UX, untapped potential, and missed opportunities. From late 2016, consumers doing searches on their desktops shrank by a huge margin while mobile platforms took the lead. It is estimated that over 50% of all searches today come from smartphones. A disconnect between crawlers and user behaviour has emerged because most crawlers still use the desktop as the default search platform. Therefore, it is prudent to evaluate sites based on how clients interact with them, on top of using a bot.
Focus on a consumer first approach
To succeed in Digital Marketing, it is prudent to focus on a consumer first approach. You can only achieve this by getting into the shoes of the consumer and interacting with the site. By conducting in-depth site analysis, marketers can understand the challenges clients face on various devices and platforms. Google Search Console has also made it possible to discover new issues that clients face when they visit your site. For example, are marketing forms easy to fill and submit? Is the content optimised for different types of devices?
With consumer experience playing an increasingly important role when it comes to driving organic search performance, more effort should be targeted at understanding the needs of the consumer. An approach that not only uses site crawlers but also involves optimising the consumer journey across different devices will allow your website to remain relevant to search engines and drive organic traffic to your site. Ultimately, your sales come from your consumers, and their experience should take priority over everything else.